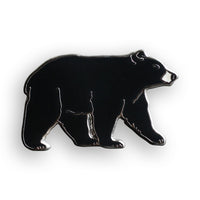 Black Bear Pin
Regular price
$6.00
$0.00
Unit price
per
Black Bears are the smallest and most widely distributed of the three bear species native to North America. They are highly efficient hibernators, spending three to five months in self-excavated dens. During this time, their bodily functions diminish 40-50%, heart rates dropping from 40-50 beats per minute to just 8 beats per minute. Born in January, cubs stay with their mothers for up to two years, learning to hunt and forage.
1.25" hard enamel pin; nickel metal finish

10% of your purchase of our Wildlife Series is donated to wildlife conservation/rehabilitation! Click here to find out about this quarter's awesome recipient!
---