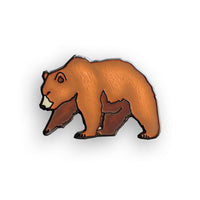 Grizzly Bear
Regular price
$6.00
$0.00
Unit price
per
Grizzly Bears can be found in Alaska, Canada and the mountains of the northwestern United States. Larger than the black bear, a Grizzly Bear can be distinguished by its concave face, high-humped shoulders and long, curved claws as well as shorter, rounder ears. Its thick fur, varying from light brown to nearly black, may appear frosted, or "grizzled". Much of their diet consists of fruit and shrubbery, with an affinity for salmon.
1.125" Hard enamel pin; black metal.
10% of your purchase of our Wildlife Series is donated to wildlife conservation/rehabilitation! Click here to find out about this quarter's awesome recipient!
---