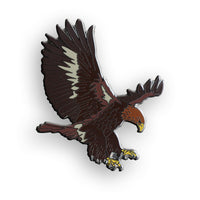 Golden Eagle in Flight
Regular price
$6.00
$0.00
Unit price
per
Golden Eagles are very large, dark brown raptors with golden sheen on their heads and necks. With wingspans measuring from 5'11" to 7'8", they primarily subsist on rabbits, squirrels and prairie dogs, but are also capable of killing large prey such as cranes, wild ungulates, and domestic livestock. They reside in pairs through much of western North America, building huge nests into cliffs and steep escarpments in mountains, canyonlands, rimrock terrain, and riverside bluffs.
1.25" Hard enamel pin; nickel metal.
10% of your purchase of our Wildlife Series is donated to wildlife conservation/rehabilitation! Click here to find out about this quarter's awesome recipient!
---