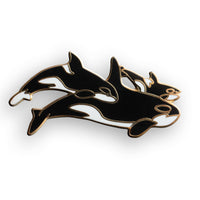 Orca Pod
Regular price
$6.00
$0.00
Unit price
per
The Orca, or "Killer Whale", is the largest member of the dolphin family. The average male is 23 feet long, weighs 7 to 10 tons and has a 6 foot dorsal fin. Females average 21 feet long, weigh 4 to 6 tons, and have a slightly curved, smaller dorsal fin. Orcas live 30 to 50 years in the wild. They live in pods of 5 to 30 whales led by a female. Orcas have a complex form of communication with different dialects from one pod to another.
1.5" Hard enamel pin; gold metal.
10% of your purchase of our Wildlife Series is donated to wildlife conservation/rehabilitation! Click here to find out about this quarter's awesome recipient!
---