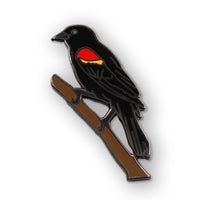 Red-winged Blackbird
Regular price
$6.00
$0.00
Unit price
per
One of the most abundant and most studied North American birds, the Red-winged Blackbird is found in wetlands and coniferous forests across the continent. The black male, with its brilliant red shoulders, looks strikingly different than the brown-and-gold-streaked female, which could be mistaken for a large, dark sparrow. Females weave intricate mud-lined nests anchored to standing cattails and willows near marshes.

1.25" Hard enamel pin; black metal.
10% of your purchase of our Wildlife Series is donated to wildlife conservation/rehabilitation! Click here to find out about this quarter's awesome recipient!
---