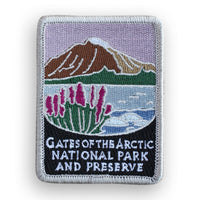 Gates Of The Arctic National Park And Preserve Traveler Patch
Regular price
$6.00
$0.00
Unit price
per
It has no roads or developed campgrounds. There are no trails, other than those blazed by migrating caribou. America's northernmost national park is as wild as it gets. Located entirely north of the Arctic Circle where boreal trees fade into treeless tundra and most of the subsurface earth stays frozen year round, this Alaska wilderness also offers a seemingly endless supply of free-flowing rivers, rugged mountains and fascinating populations of brown bears, gray wolves and Dall sheep.
2.14" x 2.86" embroidered patch with iron-on backing.
10% of your purchase goes DIRECTLY BACK to programs supporting our amazing national parks!
---