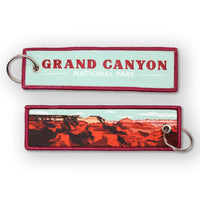 Grand Canyon National Park Flight Tag
Regular price
$10.00
$0.00
Unit price
per
This fabled gorge created by the Colorado River may be America's most famous landscape feature. The Grand Canyon is massive, 277 miles long, up to 18 miles wide and more than a mile deep, in places. Its vast expanse and spectacular geologic formations lure millions annually to canyon rim overlooks. The Colorado River, a prime rafting and kayaking destination, is still at work carving out one of the Seven Wonders of the Natural World.
5" x 1.5" double-sided sublimated+embroidered fabric keychain w/ 16 mm split ring
10% of your purchase goes DIRECTLY BACK to programs within our national parks!
---