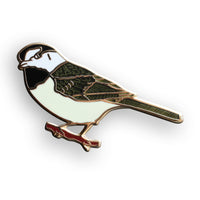 Mountain Chickadee
Regular price
$6.00
$0.00
Unit price
per
Mountain Chickadees live in the high altitude coniferous forests of the western United States. Eating insects, berries, and spiders during the warm seasons and conifer seeds during cool seasons, they glean food from foliage and tree bark, often by hanging upside down. Like many chickadees, the Mountain Chickadee hides food under bark, in pine needle clusters and in the ground to be eaten later.
1.16" Hard enamel pin; gold metal.
10% of your purchase of our Wildlife Series is donated to wildlife conservation/rehabilitation! Click here to find out about this quarter's awesome recipient!
---