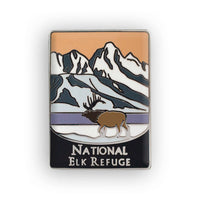 National Elk Refuge Traveler Pin
Regular price
$6.00
$0.00
Unit price
per
As development grew at the turn of the 20th century the community of Jackson grew concerned the elk herd would not survive without human intervention. The National Elk Refuge was established by various executive orders, including the main Act of Congress on August 10, 1912, which set aside lands "for the establishment of a winter game (elk) reserve in the State of Wyoming, lying south of the Yellowstone Park...". Today, the National Elk Refuge provides, preserves, restores, and manages winter habitat for the nationally significant Jackson Elk Herd as well as habitat for endangered species, birds, fish, and other big game animals.

1.125" Hard enamel pin; nickel metal.
10% of your purchase goes DIRECTLY BACK to programs supporting our amazing national parks!
---