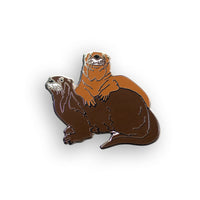 River Otters
Regular price
$6.00
$0.00
Unit price
per
River Otters are playful creatures and fun to watch as they frolic, wrestle and slide down hills near the water's edge. Generally active at night, these carnivores prefer fish, but also consume various amphibians, crayfish, turtles, insects and even birds. They have thick, water repellant fur coats, webbed feet, ears and nostrils that completely close underwater, as well as powerful tails and flexible streamlined bodies, which they use to propel themselves through the water.
1.375" Hard enamel pin; nickel metal.
10% of your purchase of our Wildlife Series is donated to wildlife conservation/rehabilitation! Click here to find out about this quarter's awesome recipient!
---