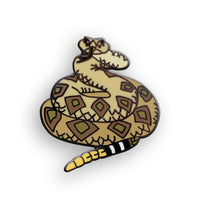 Western Diamondback Rattlesnake
Regular price
$6.00
$0.00
Unit price
per
Western Diamondback Rattlesnakes live in the southwest United States from central Arkansas to southern California. They are pit vipers, with infrared sensors between the eye and nostril on either side of the head. Known for their fatally venomous bite, they are defensive and will strike without warning. Mature diamondbacks can exceed 7 feet in length and are often seen coiled with their rattles extended and shaking up to 60 cycles a second.
1.25" Hard enamel pin; nickel metal.
10% of your purchase of our Wildlife Series is donated to wildlife conservation/rehabilitation! Click here to find out about this quarter's awesome recipient!
---